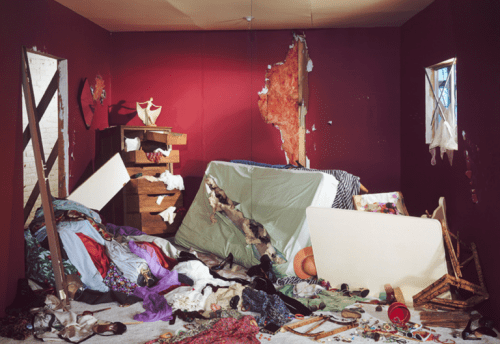 This impressive solo exhibition of Canadian-born fine-art photographer Jeff Wall is his first in the Washington D.C. area since 1997. It's also the largest exhibition on Wall's work in the U.S. since a 2007 retrospective at the Museum of Modern Art.
Who is Jeff Wall? During the 1970s, Wall was one of the photographers who was significant in contributing to the establishment of photography as a legitimate fine-art genre and fundamental independent contemporary art form. He was also one of the more interesting artists one might call "post-modern," since he has created many works of art that are often about older works of art. But what made his work interesting is that at first glance, the narrative of these photographs is often about seemingly everyday life or ordinary moments. Since the 1980s, Wall has created panoramic vistas of suburbia, prefiguring his ongoing focus on landscapes at the margins, between nature and industrial towns.
However, the structure of the compositions is often based on art historical references to create new contemporary fine-art photographs, which he first displayed as transparencies in lightboxes blown up large, to human scale, which combined the scale of painting with the luminosity of the cinema screen. More recently, though, he has expanded to also presenting his work as large-scale inkjet color prints.
Take, for example, Wall's photograph "Destroyed Room" (1978). It's derived from Eugène Delacroix's "Death of Sardanapalus" (1827) in its diagonal composition and red color palette. But the work is also about artifice: Through the door on the left side of the image, you can see that this is just a set, not a real space, held up by supporting beams.
Glenstone will also publish an illustrated catalog featuring an introduction by Emily Wei Rales, an original text by art critic and historian Barry Schwabsky, and color plates of the works in Glenstone's collection.
Where: Glenstone Museum, Potomac, Maryland