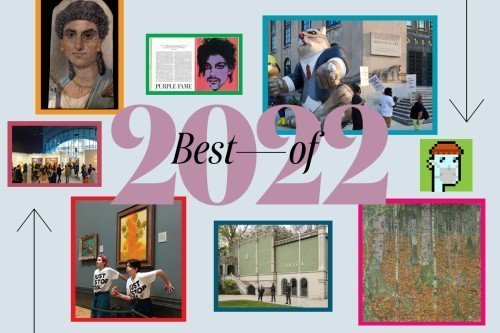 The art world experience of 2022 is anything but serene. Political protests have caused quite a mess in the renowned museums, with paint and liquids splattered on masterpieces as far-reaching repercussions threaten to destabilize institutions worldwide. Digital markets are also facing turbulence after experiencing an unprecedented surge during the NFT craze - which many now consider merely a fad gone wrong.
If the past couple years were marked by stasis and uncertainty, partly as a result of the pandemic, 2022 was the first time in a while when it felt as though a lot was happening at once. The Venice Biennale and Documenta, the world's two biggest art festivals, converged, and brought with them sizable crowds, groundbreaking art, and a good deal of debate. Art fairs, too, roared back, as new ones were launched in capitals across the globe.
All the while, geopolitics shaped the art world, transforming how museums, galleries, and auction houses functioned—and periodically sending them into tumult.
Below, a look back at the defining events of 2022.
Documenta faces a mass outcry over allegations of antisemitism
Scrutiny over this year's edition of Documenta, the esteemed art festival held once every five years in Kassel, Germany, began well before the show even opened in June. At the beginning of the year, German antisemitism groups voiced concern over the inclusion of a Palestinian collective, the Question of Funding, which they viewed as an endorsement of the pro-Palestine Boycott, Divestment, Sanctions movement. Ruangrupa, the Indonesian collective that curated Documenta 15, defended the Question of Funding, and even accused its detractors of racism. That could have been the end of the controversy, but it was not.
Documenta 15 closed mostly unscathed in September, with few other alterations and a whopping 738,000 ticket sales. Yet, as German politicians call for federal funding to be downscaled for future editions in light of this year's ado, it's become increasingly obvious that Documenta may never be the same again. —Alex Greenberger
Art Basel ousts FIAC from Grand Palais to launch a new Paris fair
With its soaring Beaux-Arts glass-and-steel ceilings, the Grand Palais in Paris offers an unparalleled experience for those attending art fairs, which are typically relegated to anonymous convention centers. For nearly 50 years, FIAC was the fair that had been given the honor of showing there. But Art Basel sent shockwaves around the international art world when it announced that it was bidding for FIAC's traditional October dates at the Grand Palais. Art Basel's coup was successful, and the new fair, titled Paris+, par Art Basel, launched in October at the Grand Palais Éphémère, while FIAC appears to have gone quietly into the night. With some nine months of planning, Paris+ kicked off with dealers reporting strong sales, though the ambitious merger of art, fashion, film, and more promised by the "plus" in its name never totally panned out. Still, Paris+ has secured the Grand Palais for seven years, so more could be in the offing. —Maximilíano Durón
A Christie's sale of Paul Allen's collection stuns
The sale of Paul G. Allen's collection at Christie's, comprised of more than 150 works from the late Microsoft co-founder's trove, stands out from all auctions before and after. In the process, the sale smashed 20 artist's auction records, including ones for Gustav Klimt to Andrew Wyeth, and saw five works sell for over $100 million—a rarity in a single sale. Among the star lots were a museum-worthy rendering of Mont Sainte-Victoire by Paul Cézanne, which sold for $137 million with fees, and Vincent van Gogh's impossibly smooth Verger avec cyprés, which brought in just over $117 million with fees. In total, the sale brought in a staggering $1.5 billion, making it the most expensive art auction of all time. —Daniel Cassady
A Warhol-related lawsuit makes it to the Supreme Court
In October, a U.S. Supreme Court case made headlines for its potential to redraw, for better or for worse, the limits of fair use. The case pits the Andy Warhol Foundation against the celebrated portrait photographer Lynn Goldsmith, whose image of the musician Prince, taken on commission by Newsweek in 1981, Warhol appropriated for a series of paintings. The legal proceedings have been gestating since 2016, but the case only grew in scale this year when it hit the U.S.'s biggest court in October, becoming one of the rare art-related ones to make it there.
High-profile artists got involved. If the Supreme Court rules against the Warhol Foundation, artists such as Barbara Kruger have argued, it would create a dangerous principle that could be applied to suppress the freedom of expression. Goldsmith's legal team has countered that a favorable ruling would help protect aspiring artists from being exploited by more culturally influential creators. A decision hasn't been made yet—the outcome will hinge on whether Goldsmith's image of Prince had been adequately transformed by the Pop artist—but whichever way the Court goes, it will likely have far-reaching impact. —Tessa Solomon
Women and artists of color rise at auction
In the past, white male artists have long dominated at public sales by auction houses. But an effort to capitalize on shifting times was felt at the year's biggest auctions as records fell for women and artists of color. Partly, the momentum had been spurred by museums, which, during the pandemic, pledged to address gaps in their holdings, but it was clear that the hunger was felt by collectors, too. At contemporary art sales held by Christie's Sotheby's and Phillips, new benchmarks were notched for artists emerging and midcareer darlings like Anna Weyant, Lucy Bull, and María Berrío, as well as ones whose reputations are established within institutions, like Simone Leigh, Lynette Yiadom-Boakye, Rashid Johnson, and the late Matthew Wong. Meanwhile, canonical and under-recognized names, among them Agnes Martin, Barbara Kruger, and Barbara Hepworth, grew in prominence in the salesroom. Arguably, the year's biggest auction surprise came via Ernie Barnes, whose 1976 painting sold for $15.3 million at Christie's. It had been given a conservative high estimate of just $200,000. —Angelica Villa